Illustration, Design & Layout
Stefan Lindblad, Canvas VK.
See gallery above!


Illustration banner, click to go to my t-shirt store via canvas.nu/store
Stefan Lindblad Illustrator and graphic designer work with illustration, design & layout as well as offering vectorization of logos, print originals for sign shops and businesses etcetra. Stefan Lindblad works from Stockholm, Sweden with both domestic and international clients. Stefan Lindblad, meaning I, take my work seriously weather its a small or larger client and assignment. Keeping artistic as well as technical quality and deadlines is number one.

One stop shop: through the years I have come to illustrate and design as well as layouting all sorts of of work, including book covers, magazine articles on various subjects, posters, storyboards for commercial and short movies, roll-ups signs and digital add banners.

Vectorization logotypes: Read more in SERVICES>

For testimonials & reference see the image galleries above, and references from customers,

Learn more about Testimonials & References here>
Illustration Stefan Lindblad. For the monthly magazine "Byggnadsarbetaren", country of SWEDEN





Illustration, vectorillusration Stefan Lindblad. Information folder for The Swedish Fire Protection Association, SFPA (Svenska Brandskyddsföreningnen).
Storyboard illustrations by Stefan Lindblad. Above for the short movie kilimanjaro by movie Director & screen writer Nima Yousefi, Stockholm, Sweden.
Rollups, exemple illustration & design Stefan Lindblad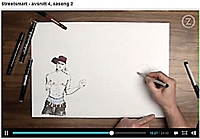 See mee draw LIVE on TV.
Swedish
ZTV 2008
Produced by ACNE